21/02/21
🎧 Tune
John Scofield's modal playing makes me squirm with excitement. He generates an improvisational landscape rich in aesthetic continuity and motivic development, while keeping the listener on their toes with harmonic surprises and stark textural contrasts. Do Like Eddie from Hand Jive (1994) is an example of his masterful narrative.
Although Scofield has collaborated with many jazz giants, the combination of musicians on Hand Jive is something extra special. Eddie Harris - tenor saxophonist jazz-funk pioneer - accentuated the groove aspects of the music, resulting in an elevated commercial appeal for the album. Scofield's collection of blues compositions are the perfect vehicle for Harris' improvisational approach. They're joined by Larry Goldings (organ), Dennis Irwin (bass), Bill Stewart (drums) and Don Alias (percussion).
The solos on Do Like Eddie use phrases that exist outside of the home key (Bb). Scofield's melodies exude elegance, fluidity and create harmonic tension with ease. As anticipated, the notes chosen are highly logical. Here are 3 of my favourite 'outside' moments:
---
Diminished

Triads on the minor 3rd axis about Bb to create tension
G and Db triads sound hip over Bb pedal!
Blues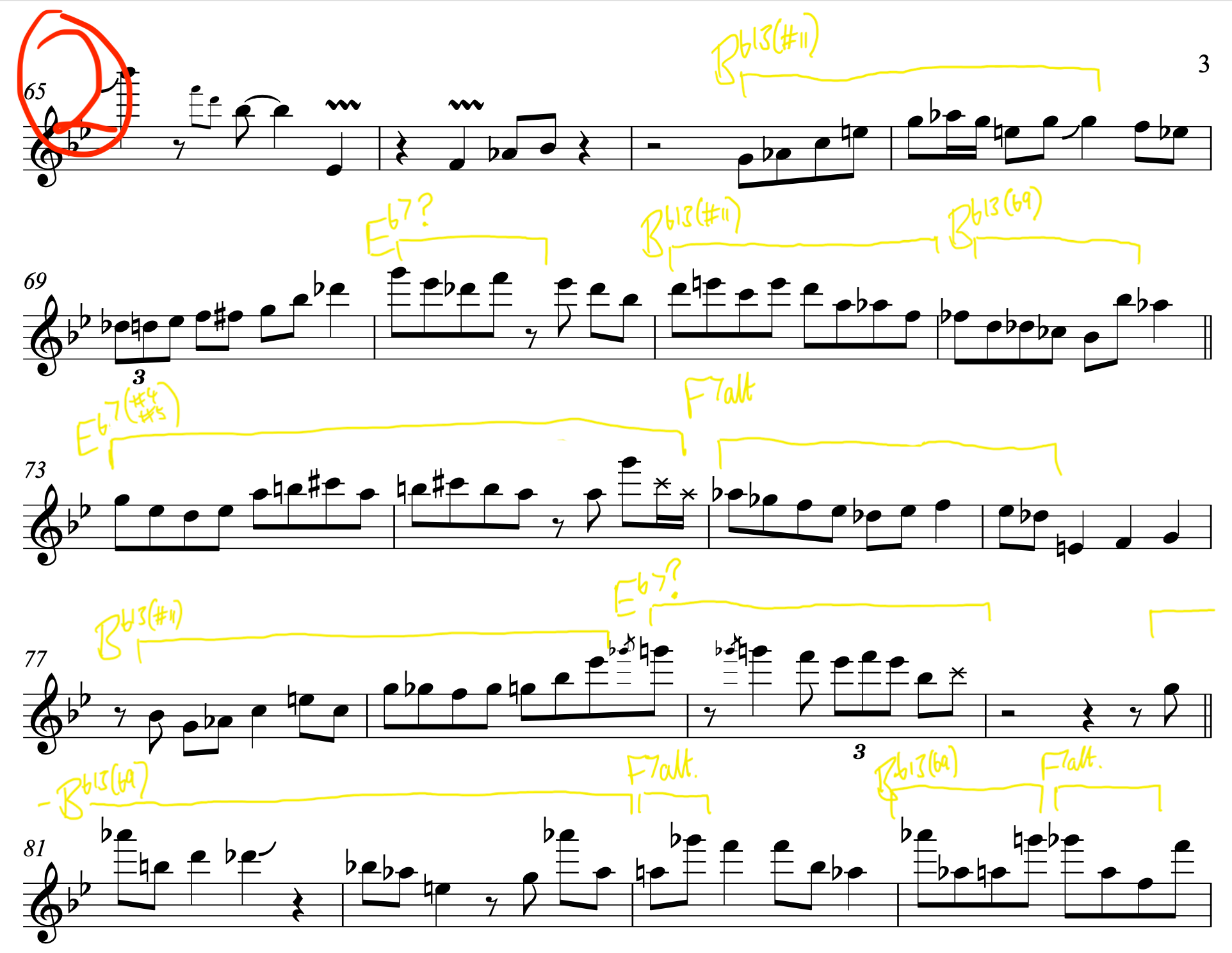 Chord 4 is implied in bars 70, 73 and possibly 78
Chord 5 is implied in bar 74
Reminiscent of a blues chord progression
Side-slip

F7 altered (F# melodic minor) in bar 90 to cadence Bb7
Simple shift up a semitone from Bb13(#11) to B13(#11)
---
Groove Elation, an album similar to Hand Jive was released the year after.
🪕 Twang
Here's a complete transcription if you fancied following along with the dots.
🌞 Thought
Transcribing may not be an instantly transformative process, but for me it's one of the most joyful forms of practice. My ears listen with greater intent to musical intricacies after mimicking articulation, time feel and tone. Looking into the mind of a musical hero opens up new possibilities. Above all, it's fun to play in a band with your favourite musicians!